There's an aquarium store near us that have a large indoor pond just inside their door. In which they keep large beautiful koi fish.  It's the sort of set up that most fish lovers would love but I am sure would cost a bomb or two to achieve your own, not considering the upkeep, maintenance and space.  I don't think I have seen too many of these since I moved over here if any apart from the one at this store.  My 3 yr old daughter likes the fish but what she really loves is that if you go to the till the other side of the door you can buy a pre-measured out little pot of fish food for a dollar and feed the koi.  The excitement and thrashing that ensues from the feeding frenzy, as their big mouths open to gulp down the tiny pellets gets giggles and raucous laughter from S.  So every once in a while we visit the aquarium store so she can feed the fish.
We have actually been doing this a while, yet it hadn't made it to this blog yet.
But I have recently been trying to reorganize my digital devices which I use for my art.  Even when I hand draw or paint with traditional medium I still use technology to scan it, finish it or tidy it up and enlarge, before I share on this blog. Other times I use it to actually make art from scratch with my different apps and programs I have.  But I am pretty bad at transferring and deleting things and so it's gotten to the point of clean up and tidy up or not be able to do anything more.  Digital memory is limited it seems more than my memory on a Monday morning, during a caffeine ban.  One of my favorite and go-to creative apps is the Art Rage for IPad app, which was struggling to process the simplest of tasks thanks to the multiple large as possible multi-layer works it had saved all waiting to be transferred or finished.  I can no longer ignore spring cleaning my digital files and work. So I have been trying to do it here and there, especially when it comes to inside the apps, which I found have quite a few pieces not finished.
And then I saw a fish, an unfinished fish, a whole lot of effort put in already fish, but no where near finished.
And then I remembered our walks to feed the fish and S's squeals of laughter and happiness.  And that this fish has been waiting for more detail since 2013, poor poor lonely forgotten fish.
How could I leave it for so long languishing, with all the memories it represents? Clearly I had lost momentum during the creative process, probably from loosing my nerve.  I tend to get scared about ruining a piece and back off for a breather.  This breather apparently took a year.  Well I clearly couldn't leave it any longer.  So I pushed through the uncertainty about what direction to take it and started making progress.
I was surprised how little time it took to finish considering how long it took me to get to the point in which i found it. I came to the conclusion that it's my dithering and lack in confidence in my directional choices that make it such a long creational process.  The minute I chose to ignore those little voices and just go with the flow it seemed to speed up.
But as always I had a last minute wobble with the eye colour.
I realized whilst on screen the darker blue version was striking, but in print the lighter blue would stand out more.  So I decided to make both versions. Why not? This is the benefit of digital art. you can create different versions of things with simple tweaks quite easily without having to start over on a canvas or board.
So here they are my two versions of the same fish.
And with a lighter touch.
I think it works. I am glad I didn't go whole hog on the water swirls, as I think that the plain black areas of the water add a nice touch and stop the water from overwhelming the koi.  I have to admit it makes a nice mirrored fabric print design.
And more so I have something finished to represent all those memories of S and her screams of laughter and giggles whilst feeding the fish.
I think it's probably time we take another walk back to feed the fishes.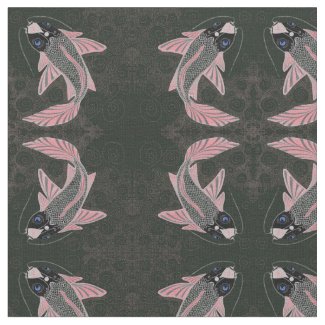 Blue Eyed Koi Fish Mirrored Black and Red Print Fabric
by
PaintedFfrog
Check out Koi Fabrics online at
zazzle